Welcome to Braman BMW West Palm Beach
, where our goal is to provide you with the highest quality luxury automotive experience. Here, our focus is on customer satisfaction, and our attention to each and every individual sets us apart from any other dealer in the South FL area.
Braman Motorcars Palm Beach
has served the South Florida area for over 30 years, and it is here you'll find Bentley, BMW, MINI, Porsche, and Rolls-Royce luxury cars and superior service!
Our highly-trained, professional staff understands how important your time is and works to ensure that the perfect new or pre-owned luxury car is brought to you. Literally. Braman is happy to provide you with a test drive located at your home or your office. We also offer service locations specifically tailored to your vehicle's needs, and handled by skilled technicians. But the service you discover at Braman doesn't stop there.
---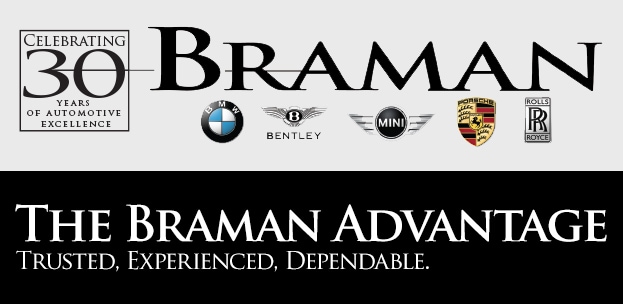 Club Braman Special Events, Polo, Performance Driving and More
Braman is proud to offer you the chance to become a member of Club Braman, an exclusive club that gives you the chance to attend various social occasions, performance driving events, vehicle launch parties, and so much more. From Sunday Polo to discovering the newest Porsche unveiling, Club Braman offers an exciting chance to be a part of something new.
Put Your Trust in Our Money Back Guarantee
Peace of mind is important, which is one of the many reasons we're proud to offer customers our Money Back Guarantee. Full coverage under our 3-day/200-mile guarantee means that you will receive a full refund if, for whatever reason, you decide your next luxury vehicle from us isn't quite for you.
Your Luxury Automotive Experience You Deserve
The Braman West Palm Beach luxury auto experience is like no other; here you can find finance and
lease specials on Bentley
, BMW, MINI, Porsche, and
Rolls-Royce vehicles
, as well as exotic luxury cars and numerous pristine pre-owned cars. We offer world-renowned service in order to help you discover the car you want - whether it may be a popular class-leading vehicle or the newest pioneers in electric luxury cars.
No matter what, our commitment is to you. Convenience, selection, and an amazing experience; these are the things we want to bring forward every time, striving to provide a service that is as luxurious as the cars we offer.
Choose Braman Motorcars: You've Arrived